Munster Nutrition Services!

Fuel your body and mind with a healthy and nutritious
breakfast and lunch daily!

Our Mission
The School Town of Munster Nutrition team is dedicated to offer every student the highest quality meals that are healthy, nutritious and enjoyable by friendly staff while meeting or exceeding USDA and Health Department expectations which enhance and support student educational achievements and wellness goals for lifelong success.
Apply for Free and Reduced
Price Meals Online!
Dear Parent/Guardian,
School Town of Munster Food Service is pleased to announce the availability of applying for Free and Reduced Price Meals online! The process is SAFE, SECURE, PRIVATE, and AVAILABLE anytime, anywhere!
Safe & Secure
We use the highest level of data encryption available, meaning that your information is always safe and guarded.
Private & Available
Apply online in the comfort and privacy of your own home. The online service is available 24/7 anytime, anywhere there is an Internet connection!
Fast
Your data is transmitted to the Food Service Nutrition Office the same day you apply, allowing for quicker processing so you can receive benefits faster.
Go Green
No more paper applications to complete and return to the school office! Applying online is so convenient and good for the environment as well!
---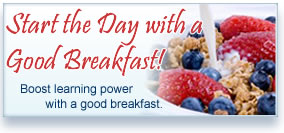 ALL Munster Schools offer Healthy & Nutritious Breakfast Meal Options

Breakfast Prices

Elem
WWMS
MHS
Full Price
$1.00
$1.20
$1.30
Reduced Price
All Schools $0.15
---
Online Payment option for easy and convenient deposits.
To Enroll:
Go to www.myschoolbucks.com and register account.
Activate your account and add students. You will need your student's name and school ID number.
Provide your credit or debit card information.
A small fee is charged per transaction.
Middle and High School Students
The middle and high school students need to carry their Student ID card and scan their card or know their 8-digit Student ID number to punch into a pin pad. The lunch lines move much quicker with Student ID cards. Students of middle and high school age should have no problems memorizing their student ID number. IT IS VERY IMPORTANT THAT ALL STUDENTS FOLLOW THESE INSTRUCTIONS so there are NOT long delays and everyone will have adequate time to eat their meal.
IMPORTANT: Please monitor your students lunch balances. We strongly discourage meal charges. There is a very limited charge policy for elementary students. Wilbur Wright Middle School and Munster High School DO NOT allow any charging.

The School Town of Munster Food Service Department Full Charge Policy can be found here: STM Food Service Charge Policy

Check It Out! "What's New"
Learn Fast Facts on What's New in the world of School Food Service. Just follow the link at the bottom of the page.